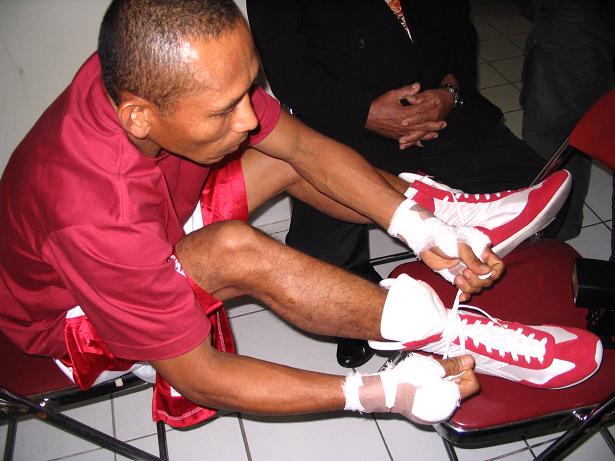 Muhammad Rachman or Muhammad Rachman Sawaluddin bin Suhaimat is a professional boxer from Indonesia. He was born on December 23, 1971.
He is also a two–time minimumweight world champion, having held the IBF title from 2004 – 2007 and the WBA title in 2011. He has been in the sport for over twenty years.
Muhammad Rahman Now
Rachman's main occupation now is that of a businessman, and he is also starting a boxing promotor business. Boxing was a part of his life that he was about to leave behind, but an opportunity to challenge a world champion again obligated him to continue pursuing this challenging sport.
His Early Career as a Boxer
When Rachman was in the first grade of Junior High School, he decided to join an amateur boxing gym in Merauke (round the age of 13). Rahman, however, only practiced until the age of 19, when he graduated from SMEA.
Rachman eventually decided to travel to Java Island, and he became "stranded" in the city of Surabaya in 1991. Rachman attempts to join the Pirih gym Heroes, which is owned by boxing coach and promoter Eddy Pirih. Eddy Pirih requested Rachman's request to join his gym because he was already 20 years old and considered it to late to begin a career in boxing.
On the other hand, Rachman, did not give up and was eventually allowed to spar with the spar with the boxer from Sasana Pirih. Rachman was finally accepted to train there after demonstrating his talent, ability, and a keen interest in boxing.
Rachman finally began his professional boxing career without even competing at the amateur level in 1993. He succeed winning four rounds over Muhammad Daud.
Muhammad Rachman as Professional Boxer
"The Rock Breaker" (Rachman's nickname) defeated Colombian Daniel Reyes in a split decision to win the IBF World Strawweight Championship (September 14, 2004) in Jakarta. Rachman earned the moniker "The Rock Breaker" after defeating Filippino IBF high-rated Ernesto "Hard Rock" Rubillar in March 2003 in Jakarta, Indonesia.
Rachman lost his title to Filipino boxer, Florante Condes on July 7, 2007. Condes knocked Rachman out twice in the third and tenth rounds of the 12-round title fight. Which took place in Jakarta at the private RCTI Television Statement.
Rachman dominated the fight in the fourth, sixth, seventh, eighth, and ninth rounds. On the other hand, Condes dominated the fight in rounds one, two, three, five, and ten.
Condes received 114-112 from Philippines', Salven Lagumbay and Thailand's, Montol Suriyachand, while Rachmand received 117-113 from home judge, Muhammad Rois.
Rachman won the WBA World Minimumweight title by knocking out Thai boxer, Kwathai Sithmorseng in the ninth round in Thailand on April 19, 2011. Rachman was knocked down in the second round but stunned Sithmorseng in the ninth round with a huge body blow.
Rachman was defeated by Pornsawan Porpramook on July 30, 2011. In a contentious majority decision, 114-114, 113-115, 114-115.
FYI, Rachman is the fourth Indonesian to win a boxing world title belt, following Ellyas Pical (three-time IBF Jr. Bantamweight Champion, 1989), and Chris John (WBA Featherweight Champion, 2003-2013).